Choreographies
Igor Piovano, Kathryn Bradney, Julie Lamby, Céline Fellay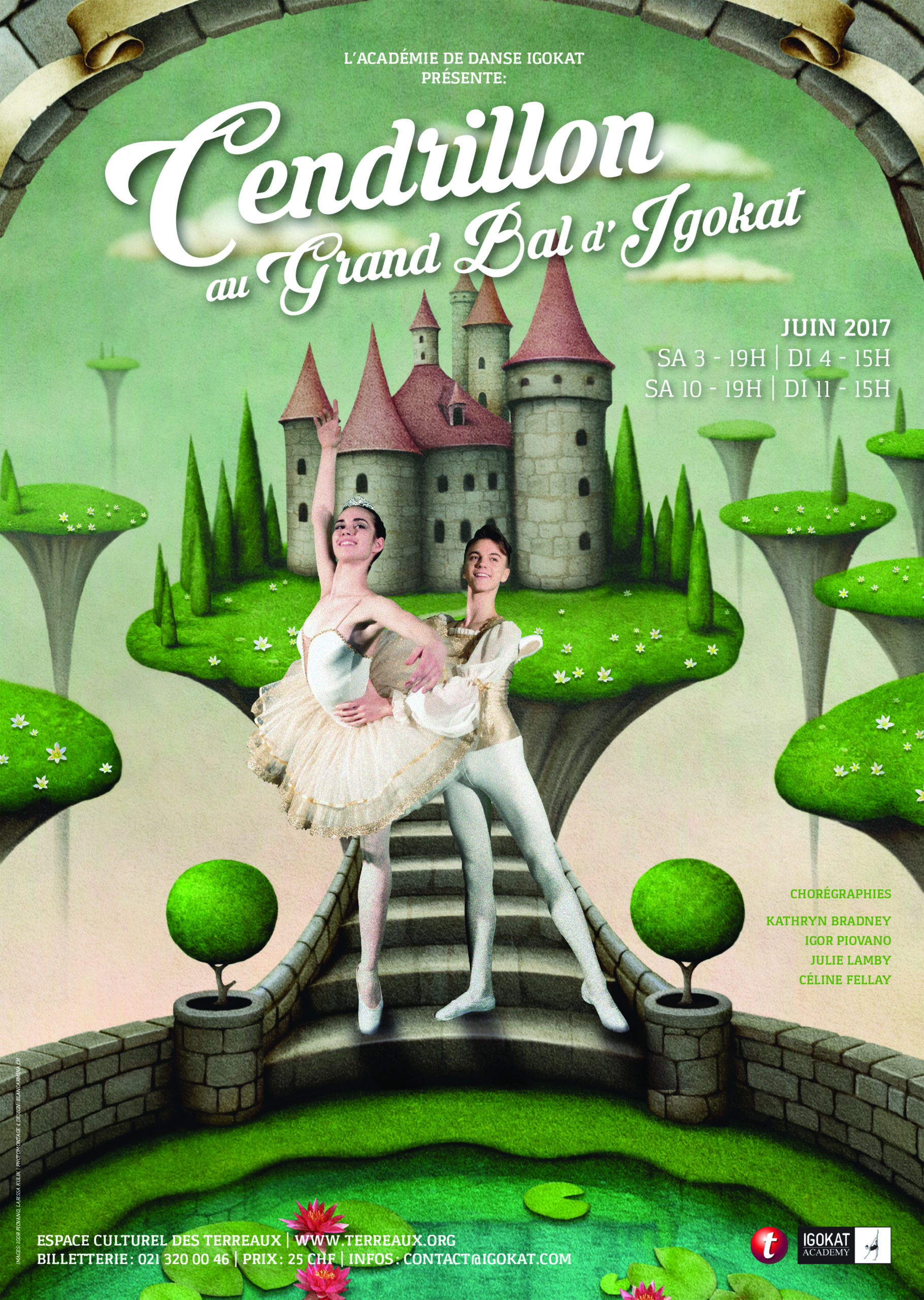 Saturday June 3rd, 2017 – 7pm
Sunday June 4th, 2017 – 3pm
Saturday June 10th, 2017 – 7pm
Sunday June 11th, 2017 – 3pm
at the Centre Culturel des Terreaux Lausanne
Casting

To celebrate the 10th anniversary of the Igokat Academy of Dance, Cinderella is invited to Igokat's Grand Ball, showcasing ballet, modern and contemporary dance.
Daughter of a wealthy gentleman, Cinderella has unfortunately the servant of a vile stepmother and her stepsisters: Javotte and Anastasia.
One day, the king of the country organized a ball. He invited all the eligible girls of the kingdom to the event to betroth his son.
Cinderella's mice friends and cat Lucifer made her a beautiful evening gown that was torn to pieces by her wicked stepsisters Javotte and Anastasia.
While the two girls and their mother go to the castle, the Fairy Godmother, with the help of the Fairy Confite and the Fairy Hypnosis, transform a pumpkin into a carriage that will transport Cinderella to the castle.
The Fairy Godmother transforms Cinderella's rags into a princess dress and gives her permission to go to the ball but only to stay until midnight strikes.

The prince, upon seeing the beautiful unknown, immediately falls in love. But Cinderella, hearing the 12 strokes of midnight must flee.
In her flight, she loses one of her silver pointe shoes.

Being too small for a regular foot, in his search for the owner, the prince is able to find his princess!
Accompanied by video projections, the public will discover a magical world where reality becomes a dream.
A performance full of diverse and varied music: from Prokofiev to Doyle, Adele and Jon Bon Jovi.
A poignant and moving story for everyone, presented with emotion and humor!